Products
1. Polyurethane Foams
Wheels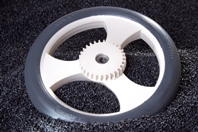 We are producing wheels in different sizes (Ø100 - Ø300 mm) and colors. The wheels are made of polyurethane integral skin foam. There is a tight connection between the tread and the wheelbody (polypropylene). They have low rolling resistance, low weight and big load capacity. These wheels are recommended for wheelchairs, sport instruments and toys.
Foam Pigs
Foam pigs are cost effective and versatile type of pipeline cleaning device. They are used for drying, cleaning, batching, and product removal operations in the oil and gas, municipality, food and beverage, mining, chemical and petrochemical industries. Because they are lightweight and flexible, foam pigs are able to get through also through extreme piping, fittings, and valves. The Foam Pigs are made of open cell polyurethane foam of various densities and are available with various types of external coatings.
Special configurations can be designed for unique applications. For more technical information, please contact us.
Noise reduction sealings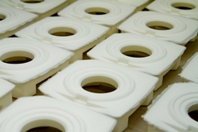 Our foam sealing elements are recommended to use in vacuum cleaners to reduce the noises and vibrations. The semi-automatic production line is suitable to manufacture 300 - 500.000 pieces sealing elements a year.
2. Casted polyurethane elastomers
Sealing-, Guiding- and Spacer discs for pipeline pigs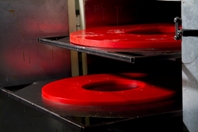 Discs are one of the types of sealing elements used by steel-mandrel pigs and are unique because of their bidirectional capability. They are designed to allow the pressure of the line to seat the outer sealing surface of the disc against the internal pipe surface to ensure positive seal. Discs are flexible and can flexibel fit in various internal pipe diameters and can be easily manufactured to any desired diameter, thickness and bolting configuration without incurring a substantial cost to the molding process. This makes them ideal for special diameters. Styles include standard, guide, sealing and spacer types. Special configurations can be designed for unique applications. For more technical information, please contact us.
Edge protection brackets
These polyurethane brackets are made to protect the lifting ropes and belts against mechanical tearing. Depend on application our brackets are available in different sizes and configurations.
Snowblades
Our Snowblades are made of polyurethane elastomer in different sizes. They have high abrasion resistance and high flexibility. Thanks to polyurethane the lifetime of these products are much longer than rubber parts. After previous discussion it is possible to produce the snowblades in any sizes and on wide range of hardness. In case of ordering or having any kind of technical question please contact us.